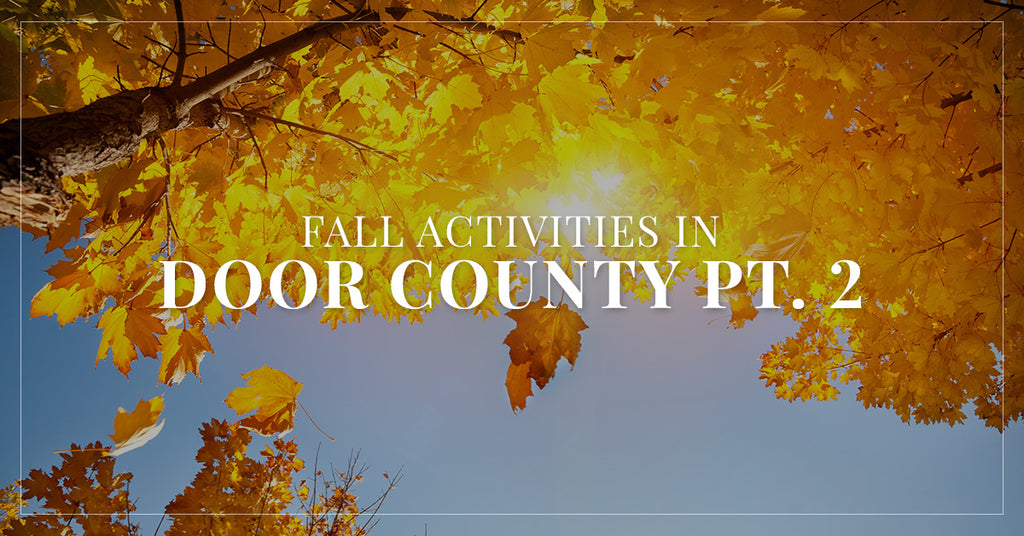 Welcome back to our blog series on fun things to do in Door County this fall! Door County is a magical place with so many amazing activities all year round, but there's something especially wondrous about a fall trip up to Wisconsin's spectacular peninsula. The other-worldly colors, the crisp, cool air, a visit to Door County just can't be beat.
Ellison Bay Pottery Studios has the handcrafted pottery that you're sure to love, but we also have the inside scoop on places to check out in Door County. Stay tuned for some great fall activities, and stop by or shop online from Ellison Bay Pottery Studios today!
Bring Your A-Door-able Costumes
With the many Halloween-themed activities that happen in Door County, the end of October is an excellent time to visit — particularly for families with kids who love dressing up. Jack O'Lantern Days in Fish Creek is great for trick-or-treating, mask making, a costume contest, and even has live owls that kids can observe. Thrills on Third is another great Halloween opportunity, where Sturgeon Bay features activities such as pumpkin painting, walks through haunted houses, a costume parade, and slime making. Both of these events take place the weekend of October 26th.
Eat Everything
Apple pies and crisps, cherry cobblers, pumpkin muffins, fresh seafood — whether you're checking out a farmers market or dining at an exceptional foodie restaurant (which are truly everywhere in Door County), there are infinite foods to enjoy and try while you're on the peninsula. For some truly unique and delicious meals, try the cheese curd pizza at the Wild Tomato in Fish Creek, a whitefish kimchi BLT from Wickman House in Ellison Bay, or some Swedish fare at Al Johnson's — and be sure to check the roof for some surprise guests!
Shop Around
One of everyone's favorite things to do in Door County is to visit all the wonderfully quaint shops that dot the peninsula's streets. From clothing and local food items (cherry jam and homemade cheese, to name a few) to handcrafted pottery, you simply can't go wrong when you spend some time shopping in Door County. Park your car in one of the staple towns, such as Fish Creek, Ellison Bay, or Sister Bay, and stroll around while window- or actual shopping. Not only are you finding some excellent souvenirs for yourself, you're supporting local businesses as well.
Watch a Pottery Demonstration
Ellison Bay Pottery Studios offers free demonstrations for visitors! Our handcrafted pottery is unique in many ways — each piece is handmade and individual, but also functional, and can hold food and liquids, as well as go in the dishwasher and microwave. You can witness first hand the process that goes into making our handcrafted pottery, and find incredible gifts to take back home with you. Whether for yourself or for a loved one, a piece of handmade pottery is a timeless and thoughtful souvenir.
We're located at the very northernmost part of Door County, in beautiful Ellison Bay. Stop by our store or shop our online collections — we hope to see you and are thankful for your business!
Continue reading