Do You Have any 'Seconds' For Sale?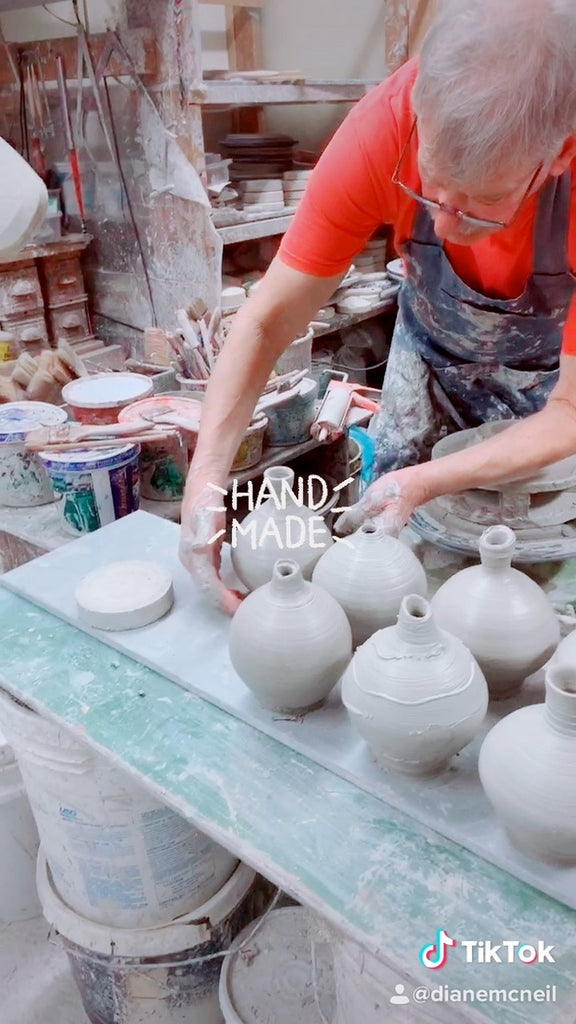 Yes! We do (inevitably) have Seconds to sell; just not on any old day but during our Annual Almost Perfect Pottery Sale day. 
We started the Almost Perfect Pottery Sale almost 30 years ago in response to the questions asked frequently in the gallery. 
Each time someone would ask, one of us would take them into the kiln room and clear a spot for the 3 or four ware boards full of seconds we had to remove from the shelves.  The pots were stored in the kiln room and were dusty from being up on the shelves for months.  It was dirty and time consuming. 
After thinking about the benefits of having a special second sale once a year and struggling to pick the dates, we settled on the second Saturday in September.  It was a great success! 
From then on, each year we'd collect all the seconds we thought were worthy and clean them up.  We'd price them to sell, set up our Pop-Up tent and arrange them. 
A few weeks before the sale we'd send out a newsletter and list it in the Peninsula Pulse (a local paper) and put it on our calendar. 
After a time, we (unfortunately) managed to accumulate more seconds, so we started a second sale over Memorial Day, which was also successful. 
And then, someone asked if we couldn't have the sale online as well.  And could we possibly include a Facebook Live aspect to the sale.  So we jumped in and accomplished that. Our brains were mush after a day selling in the gallery, online and through LIVE!! all at once! LOL
This year we didn't have the second sale in May and weren't sure we'd be able to hold our September one.  Our health has improved and we're going to do it AND add a twist!
First: No online sales this year.  We'll try the Facebook LIVE and see how it goes. 
Second: We've gone through our personal pottery collection and selected pieces to sell in the gallery and we also found some that are Almost Perfect! and will be added to the second sale. 
Third: We are selling select pieces of glass, pottery and paintings from our personal collection.  We've enjoyed them for decades and we've decided to make them available.  It's time to simplify our lives. We're hoping to pass on these treasures.
We can't wait to see everyone who can make it or who comes on our FACEBOOK LIVE September 9 2023, at 11am. 
Diane McNeil