We're Looking for a Few Good Artists and Other Exciting News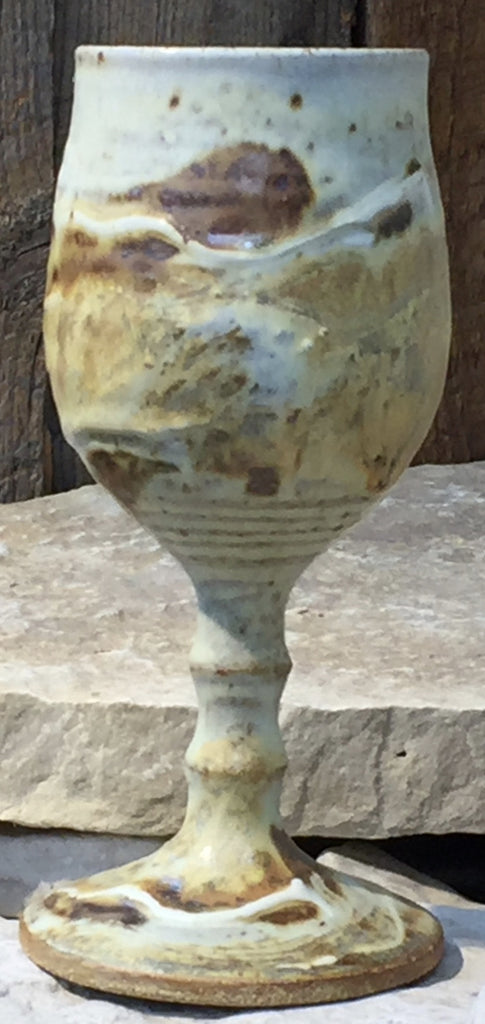 Good Morning!
A few exciting things are happening in sleepy Ellison Bay:
We're a small, very well attended event and our artists bring their very best work. On Saturday there's a Parade, a variety of music and food and a trolley to help people get around. On Sunday, there's the very popular Fireman's Pancake Breakfast, then Best Minster Dog Show with awards like Best Tail Wag and Highest Jump which keeps the weekend excitement going and of course, the ART. I promise more updates.
2. It's Brrr Cold:
John needed something big enough to warm him up after walking the dogs this morning. This fabulous stein
(Death's Door)
can either be a hot chocolate, big coffee or tea mug that will warm up more than fingers after outdoor fun. Chill it for a beer later or do what I do-drink a breakfast smoothy from it.
Think out of the box, or goblet! Have you thought of sipping tea or orange juice from your elegant goblet
(Door County Sky)?
Along with drinking mulled wine with friends on the weekend, use your goblets as water glasses at dinner. There are no rules when it comes to food or pottery. 
3. Process is Everything: Our ceramics are handmade with attention to every detail. Extreme care is taken with each step in the process.  For 50 years John has been devoting himself to making beautiful objects for you, the user.  BTW-John bought his potters wheel 44 years ago, which is before he started EBP 43 years ago. That's taking extreme care.
4. Studio Time:
Saturday John was working on tea bowls. I've included a
video of John at the wheel making tea bowls
for an up close and personal demonstration for you. So far I've used mine for tea, coffee, ice cream, wine, cereal, vodka, water, salsa and pencils.  I'm sure there are more uses. We call this glaze:
Newport Park.
Thanks for reading and as always--Stay wonderful
Diane and John
Winter Hours TH,Fr,Sa 12-4
PS
Call 920-854-5049 when you have a Pottery Emergency. What's a Pottery Emergency? Usually it's the the need for a
last minute gift
.
We can solve that one--Easy:
T
hese Baking Dishes are very popular. 
PPS
We'll be in Madison Feb 11, 12 participating the in Madison Weavers Invitational Art Show at the Olbrich Garden.  We are thrilled to be included along with an amazing group of artists. I'll send you a reminder.
PPS
We do leave the island. I'll post updates here and on our
Facebook page.
You can
LIKE our page and follow
us to stay in touch.
Diane McNeil