January is Soup (Mug) Month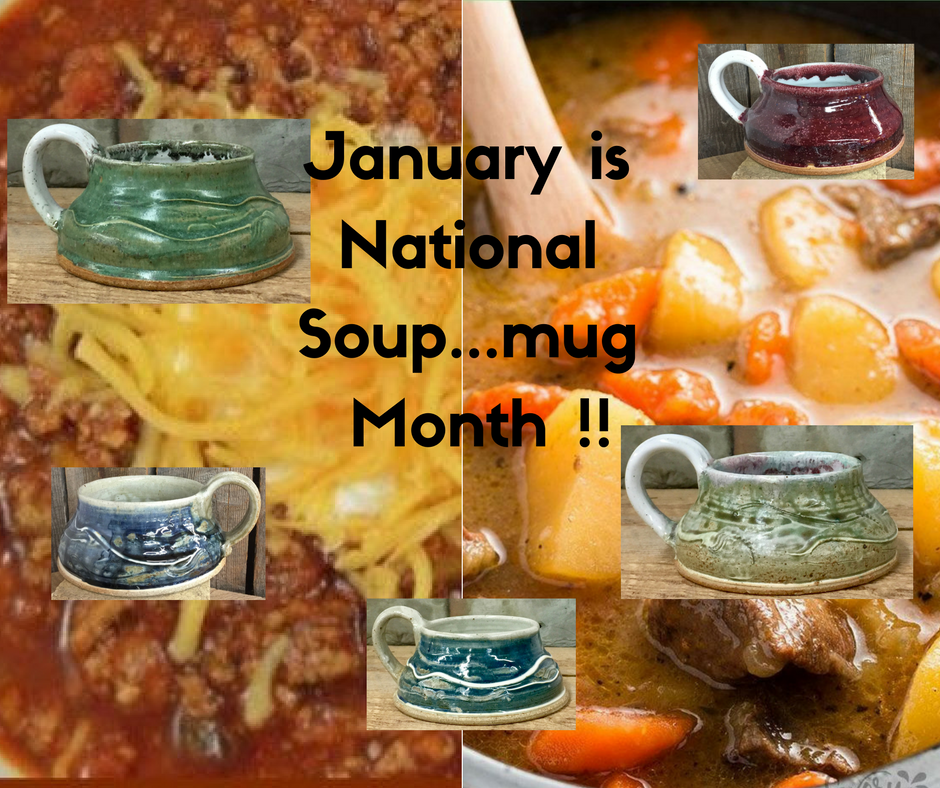 One of the perks of winter is fun in the snow.
Taylor and I made a snowman last year. I'm waiting for the right kind of snowfall to do it again and for my 14 year old granddaughter forget how old she is and play with me.
We don't have to wait for the snow to fall to make chili or Irish Stew or chicken rice soup but it's so cozy to steam up the windows while there's wind and snow swirling around. 
John bought us a slow cooker cookbook for Christmas.  This chili recipe isn't from that book.  This one was inspired by a recipe I found on Pinterest with suggestions by our CCMJ-otherwise known as Chief Chili Maker John. His chili is the best, but he likes this one too. 
Slow Cooker Turkey Chili
Ingredients
1 pound Ground Turkey, fully cooked
1 can of Kidney Beans
1 can of Black Beans
1 can of Navy Beans
pick two cans or one..use what you like. 
Increase the meat, too if you want. 
Remember to increase the seasonings to your taste.
Tomato sauce, 28 oz
Petite diced tomatoes, 28oz
Yellow onion, 1 diced
1 clove garlic diced
Bell pepper, 1 large diced
Ancho Pepper 2 tsp
Chili powder, 2 tbsp
Cumin, 2 tsp
Oregano, 2 tsp
Salt, 2 tsp
Optional topping: Cheddar Cheese and sour cream and hot sauces
Instructions
Add your fully cooked ground turkey to your slow cooker.
Add the rest and stir.
Cook on low for 8 hours or 4 hours on high.
Serve with rice or macaroni and/or
with shredded cheese and sour cream
and additional hot sauces and serve!
There's more to do outside during the winter than make snowmen. I take photos!
I like to make soups and stews on the stove.  I like to let them simmer and check on them occasionally, stirring them, tasting them, adding to them.  But I'm ready to try this recipe for Irish Beef Stew in the slow cooker if only because I'm always looking for something delicious and easy.  I think I liked cooking more when I was younger with a younger family.  I am still used to cooking for 6 or 8 people and doubling that for leftovers, so there's always enough for days.  That's THE best.  This one is also inspired by the new cookbook and Pinterest, and tweaked by all the years of eating stews.  We have been eating gluten free for over 20 years so I have changed a few things. 
Irish Beef Stew
wash the carrots and potatoes carefully-you don't have to peel them-or peel them-up to you
1 pound carrots cut into equal chunks
1 pound waxy potatoes cut into equal chunks
1 pound floury potatoes cut into equal chunks
1 TBS oil
1 pound beef stew meat
1 large onion diced
2 garlic cloves diced
1 large celery stalk diced
4 C beef broth
OR 3 C beef stock and 1 C Guinness Stout
1 sprig thyme
1 sprig rosemary
3 bay leaves
1 tablespoon cornstarch stirred into a little bit of cold water to make a slurry When making the slurry, stir cornstarch into cold water until it has the consistency of cream. This can be set aside until it's needed, but be sure to stir it briefly before you pour it into the sauce to redistribute the starch granules in the water. You should pour it into your stew toward the end of its preparation.
Instructions
Place the carrots and potatoes in a 4-6 quart slow cooker.

Heat the oil in a large skillet. Brown meat on all sides, then transfer to the slow cooker on top of the vegetables.

Add the onion and celery to the skillet and cook over medium heat until softened. Pour in the beef broth and add the thyme sprig and bay leaves. Bring to a boil and simmer for two minutes. Taste test and add salt and pepper to your liking.

Pour the hot broth over the contents of the slow cooker. Cover and cook on LOW for 8-10 hours or on HIGH for 4-5 hours.

Minutes before serving,

stir in the cornstarch slurry and finish cooking.

Serve hot with a big hunk of Irish soda bread!
Eating leftovers is easy too.  Fill the mugs up, cover the top with waxed paper and microwave the soup or stew.  The handle stays cool enough to touch, unless you're like John and you want your lunch to be HOT.  Leftovers and these soup mugs are definitely a winter PERK for me. 
Diane McNeil