Winter Soup Mug Flash Sale Extended till Monday Morning!! Special Thank You Gift included!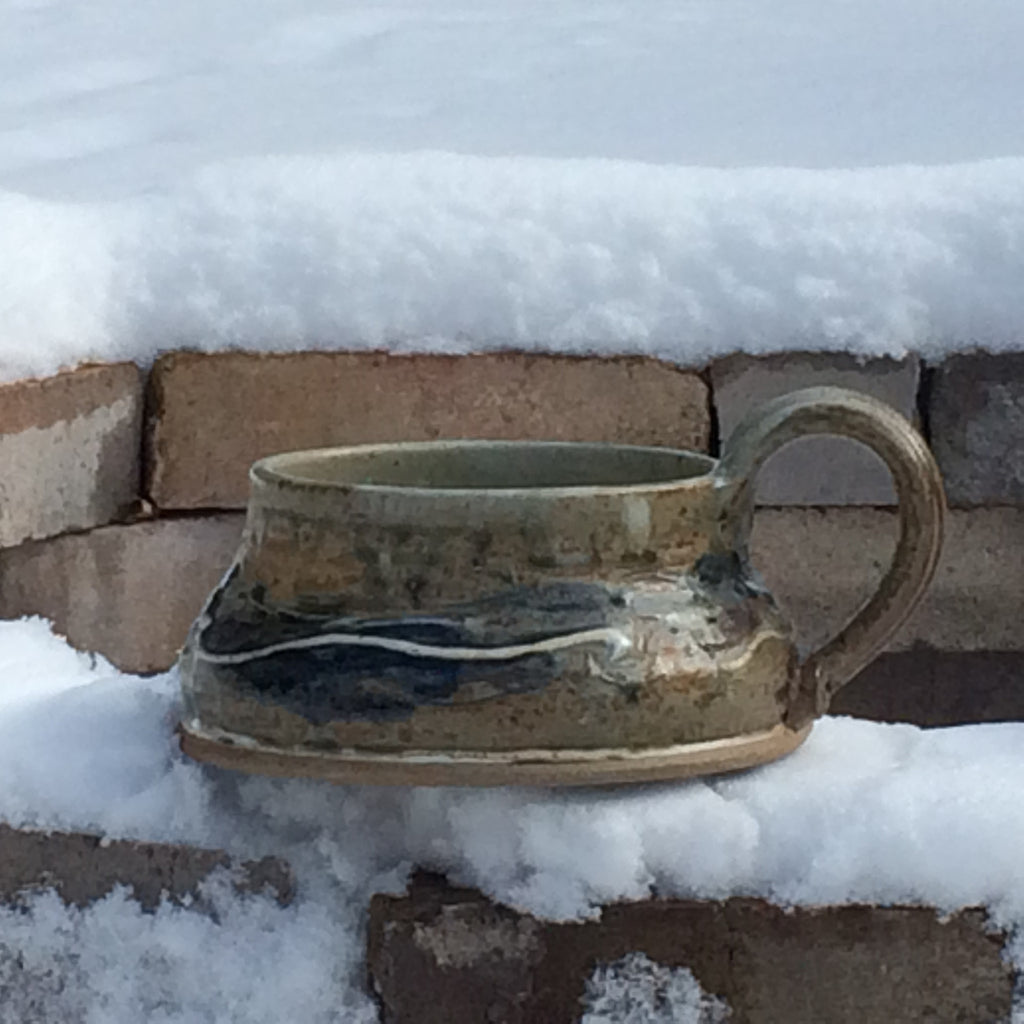 The One - The Only - Super Soup Mug Sale
Friday 3/25  9am-8pm
+ a BONUS!
A secret surprise thank you gift with each purchase
Until I met John in 2003 I hadn't used a hand thrown soup mug.  Years before, my Mom and I had been in John's studio to buy my brother and his fiancé a shower gift (goblets, of course) and we loved everything we saw. But I just didn't think of it as something for me.  Someone else, yes. Me, no.
I had small children and I assumed that pottery was too fragile.  Took too much care.  Wasn't really practical.  
Sale?  What about the sale?
So marrying John and using pottery day after day was quite an introduction.  Turns out my children couldn't easily break the plates and bowls; they tried to get out of washing dishes. They fussed over the rules a bit (one dish in the pan at a time to prevent chipping....OMG it takes sooooo long--said some whining child!).  Soon it was second nature for even the youngest daughter. 
Although I thought of only using the soup mugs for soup or stew, I soon learned to enjoy John's great chili in a mug and then there's the hot oatmeal in the microwave that is perfect for a morning like this. My children quickly found the soup mugs were the perfect size for ramen (with peas, or eggs, or left over chicken) and each kidlet went to college with a soup and a coffee mug.  
And then there were the brilliant customers who used them as a watering dish for their bunnies and ferrets. No tipping was the selling point! More people pointed out how good they were as candle holders for pillar candles--the handles are the most romantic part.  
What do you mean secret surprise gift?  Tell me more, please.
And then there are leftovers: zap your choice in the microwave and TaDa----Lunch or dinner.  
Easy wash up.  Food safe glazes and no wacky plastic chemicals to worry about either.  Sturdy and beautiful.
They are truly little works of art you can use everyday.  
(Left)-FAG
(Middle)-SMSBG
(right)-AB
(front)-DO SOLD
(left)-CB SOLD
(middle)- ANB
(right)- FASBG   SOLD
(front)- GR
Details of the sale:
Each mug is $44.  Shipping is $15-$18 depending on the number of mugs you buy. 
Special Secret Thank YOU Gift with each purchase.  This gift was selected especially for this fun soup mug sale.  
Send me your email with your selection and I'll send you a PayPal invoice.  I'm not running this through the store this time.  If you really don't want to use PayPal, call us at 920-740-5859.  
As soon as I get your order I will note that sale on the website and on Facebook.  
Diane McNeil